Lincoln Cent Rolls 1942-P 132 Wheat Pennies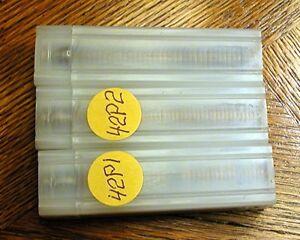 ---
Lincoln Cents

 

 US Lincoln Cents - Rolls

1942-P

 131 Wheat Pennies

 
ITEM ID#
DATE
CONDITION - DESCRIPTION
PERSONAL GRADE EVALUATION
CATALOG VALUE
LC42P1
1942-P
About Good - 18 Pieces
AG
1.44
 
Good - 27 Pieces
G
4.05
LC42P2
Very Good - 50 Pieces
VG
9.00
LC42P9
Extra Fine - 37 Pieces
EF - EF+
20.74
Additional information regarding the condition of these coins, grades & flaws; are available upon request.
How the Lincoln Cents are graded
1st - I use the Guide Book of United States Coins - produced by the Whitman Company
About Good - (AG1-3) - Date worn but apparent. Lines in wheat heads missing, worn flat. Rims flat worn into mottos.
Good (G4-7) - Date worn but apparent. Lines in wheat heads missing. Full rims.
Very Good (VG8-11) - Half of lines show in upper wheat heads.
Fine (F12-19) - Wheat lines worn but visible.
Very Fine VF20-39) - Cheek and jaw bones worn but separated. No worn spots on wheat heads.
Extremely Fine (EF40-49) - Slight wear. Light blemishes or discoloration.
About Uncirculated (AU50-59) - Traces of light wear on only high point of design. Half of mint luster present.
Uncirculated (UNC60-62) - No trace of wear. Slight blemishes or discoloration.
Gem Uncirculated or BU (BU63-70) - No trace of wear. Barely noticeable blemishes to perfect.
2nd - If found an unpleasing scratch or dent, I drop at least (1) grade.
3rd - If the coin meets one grade, but not quite the next, I will use the + sign, such as (VG+)
4th - Coins grading less than Very Good, will be listed as G - Good or AG - About Good
I'm not a professional grader, but I try to give my customers the best information I can, on the product being sold.
Values of coins as listed in the 2015 version of   'A Guide Book of United States Coins'
Rolls, 2x2's or coins are placed in a padded envelope prior to inserting in the Flat Rate Envelope or Box, for protection.
PURCHASE MULTIPLE ROLLS AND QUALIFY FOR SHIPPING USPS FLAT RATE BOX UP TO 20 ROLLS FOR $6.45. PADDED FOR PROTECTION, WHEN ROOM ALLOWS. I WILL COMBINE MULTIPLE PURCHASES - SELECT PURCHASES & REQUEST INVOICE. PURCHASE $250 OR MORE AND I WILL PAY SHIPPING.
100% MONEY BACK GUARANTEE:
If for any reason you are not satisfied with purchase.
I will refund 100% of the purchase price if item is returned in same condition it was shipped.
Buyer is responsible for all shipping charges.